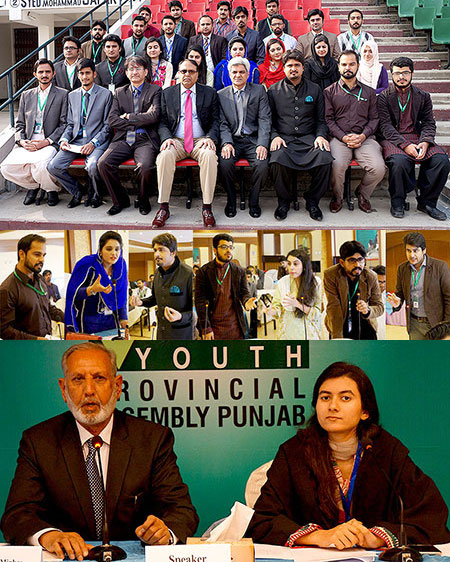 YPAP Members visit Punjab Assembly; Observe Proceedings
Lahore, November 24; In order to engage the youth of Punjab to learn and experience the political and democratic setup of the Punjab province, PILDAT along with the Honourable Speaker's office facilitated a visit to the Punjab Assembly today. Members were divided into groups to observe the proceeding of the on-going 25th session of the Provincial Assembly of the Punjab.
Earlier today, Mr. Zulfikar Ahmad Ghumman, Director General Sports Board of Punjab and Mr. Muhammad Anees, Director Administration, Sports Board of Punjab met with the young Members and briefed them about the working of the Punjab Sports Board. They also shared the initiatives by the Punjab Government and Punjab Sports Board of Youth's involvement in extracurricular activities. Members of the Youth Provincial Assembly Punjab interacted with the Punjab Sports Board D.G during a visit to the Sports Board.
The Chief Information Commissioner, Punjab Information Commission, Mr. Mazhar Hussain Minhas addressed the Youth Provincial Assembly Punjab session today. In this exclusive speaker session on Status of Right to Information in Punjab, Mr. Minhas discussed the RTI law and the process of implementation. He also gave a comparative analysis of KP and Punjab RTI laws. The Speaker Session ended with an interactive discussion on RTI.
In a plenary session today, Members discussed and presented business on the floor of the House on subjects including Reforms in the Education Sector, Madrasah and agricultural Reforms.
The 3rd and last day of the second session of YPAP will be held on November 25, 2016 in Lahore. The 3rd day will end with an exclusive workshop arranged for the young people on Countering Violent Extremism in Punjab.
For further information & details:
Website: www.ypa-punjab.pk
Email: ‪info@ypa-punjab.pk
Twitter: ‪https://twitter.com/YouthPAP
Facebook: ‪https://www.facebook.com/YouthPAP/
Cell # ‪0345-5448626