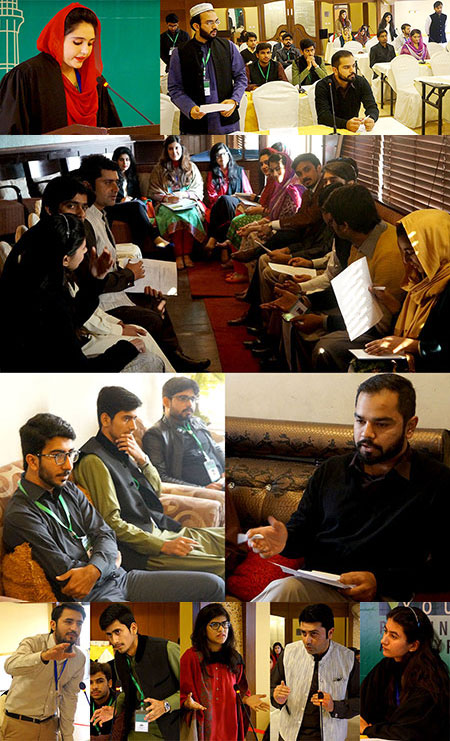 YPAP Members remember the martyrs of APS attack; Observe one-minute silence
Lahore, December 16; The first day of the 3rd session of Youth Provincial Assembly Punjab started with Members paying tribute to the departed souls of the Army Public School attack on its anniversary. Members also observed one-minute silence for the martyrs of the APS attack and the lives lost in the recent plane crash in Pakistan.
In the plenary session today, Youth Standing Committees presented and discussed their draft reports in the House. Each Committee will be revising their reports on the recommendations and suggestions shared during the session before presenting those to a review panel for assessment.
The Youth Standing Committees of YPAP and the report topics assigned to them are as follows:
| | | |
| --- | --- | --- |
| No. | Youth Standing Committees | Report Topics |
| 1. | Youth Standing Committee on Education | What has been the performance of the Punjab Government in improving the educational system of the province? |
| 2. | Youth Standing Committee on Rule of Law | Status of Implementation of National Action Plan by Punjab |
| 3. | Youth Standing Committee on Youth Affairs | Implementation of the National Youth Policy at the Provincial and District Level and the initiatives by the Punjab Government for the youth to counter extremism |
| 4. | Youth Standing Committee on Information | Comparative analysis: Evaluating Status of Implementation of Right to Information in Punjab |
An Expert's panel would evaluate and score the reports of the Youth Standing Committees. Each Committee will present its recommendations followed up with a Q & A session and recommendations by the Panel of Experts.
For further information & details:
Website: www.ypa-punjab.pk
Email: ‪info@ypa-punjab.pk
Twitter: ‪https://twitter.com/YouthPAP
Facebook: ‪https://www.facebook.com/YouthPAP/